Beautiful island scenery, gorgeous beaches, and picturesque colonial towns await visitors to the Canary Islands. A legacy of the Spanish colonies, this archipelago of seven large and six smaller islands lies 200 kilometers off the northwest coast of Morocco and Western Sahara Africa. No one is sure how the Canaries got their name, but one explanation is that the singing birds known to the ancient Romans as canora made a home on the islands. The largest of the Canary Islands is Tenerife, which boasts many top tourist sights including the UNESCO-listed city of San Cristobal de la Laguna. Both Gran Canaria and La Palma islands have UNESCO Biosphere Reserves as well as cultural attractions such as Baroque churches, museums, and traditional festivals. Charming fishing villages are found on Lanzarote Island, and undiscovered sandy shores line the island of Fuerteventura.
1 Colonial City of San Cristobal de la Laguna (Tenerife Island)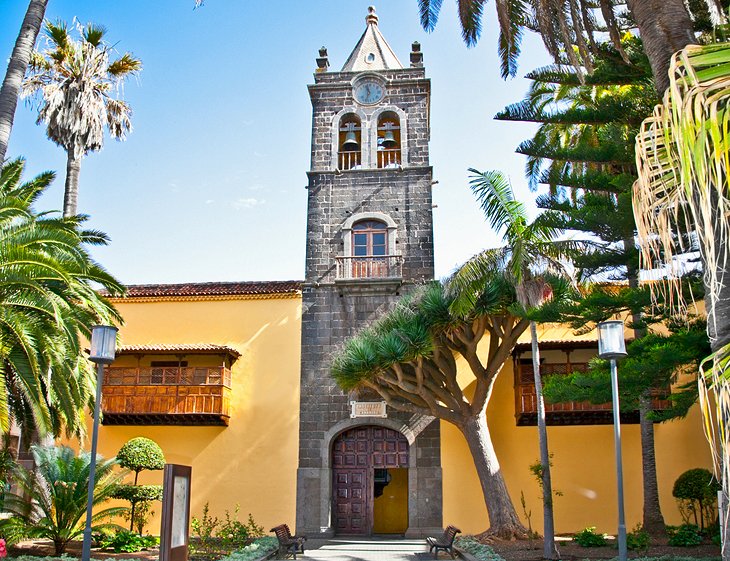 This charming colonial city is a designated UNESCO World Heritage Site because of its exceptional cultural heritage. San Cristobal de la Laguna is the former capital of Tenerife Island. The lovely historic town has many architectural gems such as its glorious cathedral, Renaissance and Neoclassical churches, and impressive mansions built by wealthy families in the 17th and 18th centuries. The town's parish church, the Iglesia de Nuestra La Concepción was built 1496 and modified in the 16th and 18th centuries. The sanctuary is simply adorned and has Mudéjar coffering. Another important church is the 17th-century Iglesia de Santo Domingo de Guzmán. The facade features Plateresque details on the facade and an ornately designed Mudejar ceiling. Paintings by the Canary Islander artist Cristóbal Hernández de Quintana decorate the interior. For a historical overview of the region, head to the History and Anthropology Museum. This museum illustrates the history and culture of the island of Tenerife throughout the centuries.
Sun-worshippers and nature lovers should also make time to enjoy the town's beaches. Al Apio Beach has a sandy, gravelly shore with moderate waves. El Navio Beach is a great place for watersports and windsurfing. Near the lighthouse, Arenisco Beach invites visitors to take a scenic walk along the coast.
2 Las Palmas de Gran Canaria (Gran Canaria Island)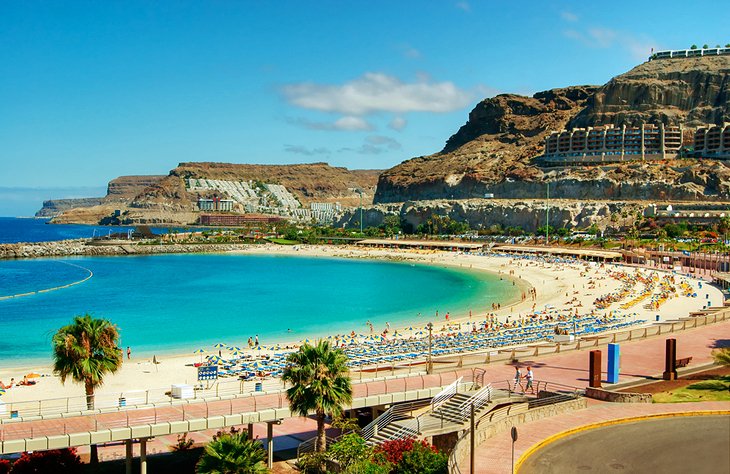 About 90 miles off the coast of Africa, the island of Gran Canaria is a place of stunning natural scenery, and nearly half of the island is protected as a UNESCO Biosphere Reserve. The north of the island is a landscape of dramatic cliffs, and the south is lined with beautiful beaches.
Las Palmas de Gran Canaria is a sun-drenched seaside town with an interesting historic legacy. The city was influenced by its Spanish colonial past from the 15th century as well as the culture of the aboriginal Guanche people. An architectural highlight of the town is the cathedral. This impressive 16th-century house of worship displays Neoclassical features and a Gothic interior with unusual palm-shaped columns. Within the south wing of the cathedral is the Diocesan Museum that displays a collection of religious art and ceremonial objects.
Another great museum is the Museum of the Canary Islands with an interesting archaeological and ethnographic collection. This museum reveals the pre-hispanic culture of the island. Art lovers should also visit the Néstor Museum, which exhibits the art work of Néstor Martín-Fernández de la Torre, one of the most renowned Spanish Symbolist painters. The museum displays his paintings including portraits and landscapes as well as his drawings, sketches, and craftwork. The Néstor Museum belongs to the "Pueblo Canario" (Canaries Village) built by the artist's brother following in the "neo-Canarian" style.
Las Palmas de Gran Canaria has several excellent beaches and a superb natural environment. Las Canteras Beach has a wide sandy shore and gentle waters thanks to a natural breakwater formed by volcanic rock. This beach offers everything tourists need: public toilets, umbrella and lounge chair rentals, water sports rentals, and a children's play area. Part of the beach is a scuba diving area. La Playa Jinámar is a small beach with a dark sand shoreline and moderate waves. Another must-see nature site on Gran Canaria island is the Jardín Botánico Viera y Clavijo (Canary Gardens), seven kilometers from Las Palmas de Gran Canaria. This spectacular botanical garden is in a beautiful valley. Walk down the stone path through the valley's slopes to discover a landscape filled with native Canarian plant species.
3 Culture and Beaches of Santa Cruz de Tenerife (Tenerife Island)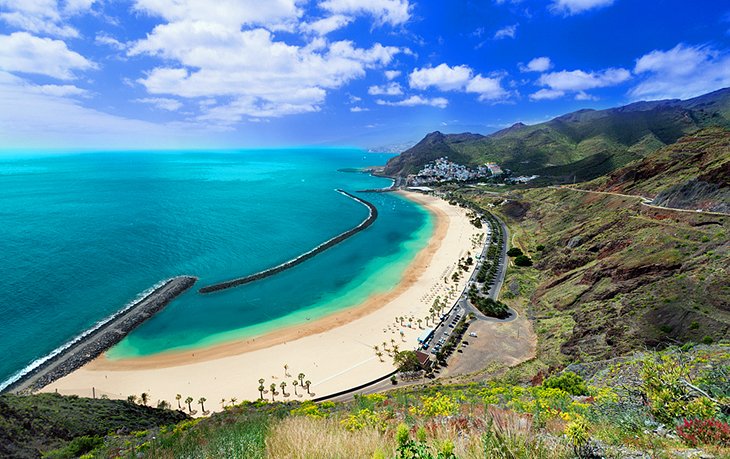 This picturesque seaport has an elegant ambience because of its broad avenues, spacious square, exotic gardens, and beautiful modernist architecture. Tourist highlights include the Museum of Fine Arts, which boasts an exceptional collection of paintings. The collection features Ribera's Saint Joseph, the Portrait of Fernando Viscaí by Joaquín Sorolla, and the Nava Triptych from the 16th-century Flemish school. The museum also exhibits works by painters from the Canary Islands, such as Gaspar de Quevedo, Cristóbal Hernández de Quintana, and González Méndez. To learn more about Tenerife's native people, visit the Museum of Nature and Man. Exhibits educate visitors about the island's original inhabitants before the arrival of European settlers. Another important aspect of the town's culture is its religious heritage. The most famous event is the annual Carnival festival. At this vibrant and energetic event, the locals dress up in colorful costumes, and spectacular processions entertain the crowds of revelers.
Santa Cruz de Tenerife is also renowned for its beaches. The best choice is Las Teresitas Beach, a golden beach protected from the marina by two breakwaters. Gentle waves and safe waters are ideal for swimming. This beach is popular with snorkelers as well. The beach has excellent facilities including public toilets, sun lounger rentals, water sports rentals, a children's play area, and a snack bar. Las Brujas Beach is another beautiful sandy shoreline surrounded by idyllic scenery. This beach does not have breakwaters so the waves are strong.
4 The Religious Heritage of Betancuria (Fuerteventura Island)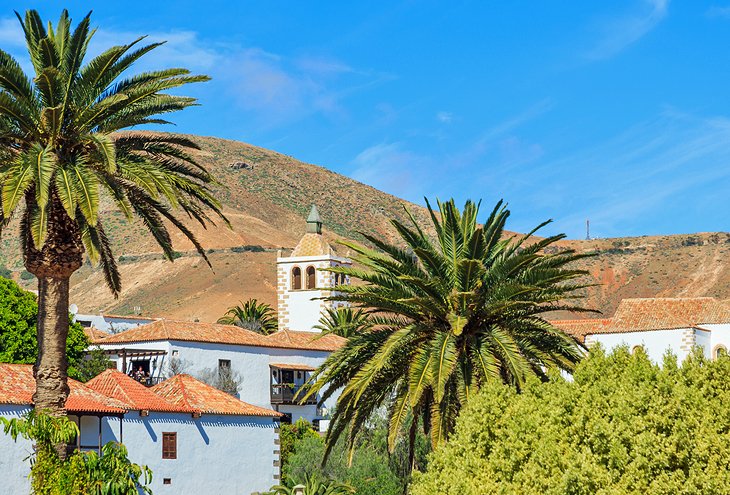 Founded in the early 15th century, Betancuria was the capital of Fuerteventura Island until 1834. The town has an important religious heritage and an impressive cathedral. The Catedral de Santa María de Betancuria was initially built in Norman-Gothic style, but was renovated in Baroque style in the 17th century. Step inside to admire the lovely sanctuary, especially the choir and baptistry. Also noteworthy are the Baroque reredos and Mudejar coffered ceiling. Other important religious buildings are the Hermitage of San Diego and the Franciscan Convent Church. For an in-depth view of the town's spiritual art, visit the Museum of Religious Art. The residents of Betancuria are still devout Catholics and continue their ancient pilgrimage tradition. On the third Saturday in September, the Pilgrimage of Peña is held in honor of Nuestra Señora de la Peña (Our Lady of Peña), the patron saint of the island. The event is a lively display of the island's folklore and religious customs.
5 Corralejo Fishing Port and Beaches (Fuerteventura Island)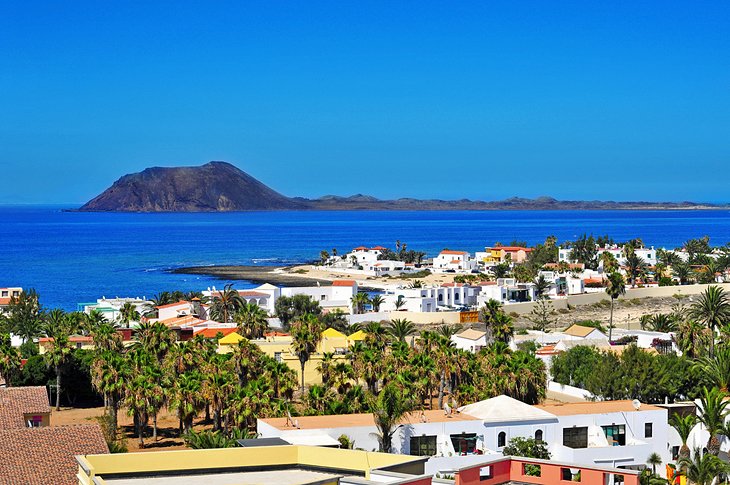 Corralejo is a seafaring town in northern Fuerteventura, surrounded by an intriguing desert landscape of sand dunes. With a working fishing port, the town combines traditional seafaring culture with a touristy vacation ambience. Around the port is a picturesque collection of houses with many restaurants and cafés at the street level. A waterfront promenade leads to a small urban beach. Many of the sand dunes outside the town border beautiful beaches. El Pozo Beach has a fine shoreline that features many kiosks renting water sports equipment, beach chairs, and sun umbrellas. Because of its moderate waves and safe waters, this beach is prized for swimming. Another option is El Moro Beach, with pillowy white sand shores and crystal-clear blue waters. Along an unspoiled craggy part of the surrounding coastline, El Rio Beach has a pristine shore of fine white sand. A lighthouse stands beyond the beach at the tip of a rocky promontory.
6 The Beach Resort of Puerto del Carmen (Lanzarote Island)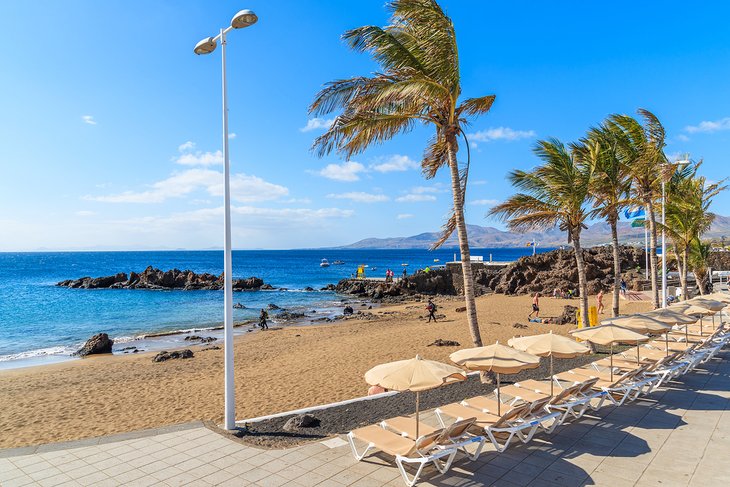 The biggest tourist attraction on Lanzarote Island is the Puerto del Carmen. This quaint old fishing village has been transformed into a bustling vacation destination with a wide selection of hotels and restaurants. The area has more than six kilometers of sandy beaches with calm waters. Those visiting during the first two weeks of August will be delighted by the Fiesta de la Virgen del Carmen. This religious festival honors the patron saint of the fishing village, which is decked out with colorful bunting for the occasion. The village celebrates with a traditional procession of richly decorated boats. One of the boats holds the statue of the Virgen del Carmen, while other fishing boats follow in a twilight maritime parade.
The countryside outside of Puerto del Carmen is also worth exploring. The volcanic activity that created the island of Lanzarote can be seen in the dramatic landscape of craters, canyons, and valleys. The island is a UNESCO-listed Biosphere Reserve because of its unique natural environment.
7 The Rich History and Tropical Gardens of La Orotava (Tenerife Island)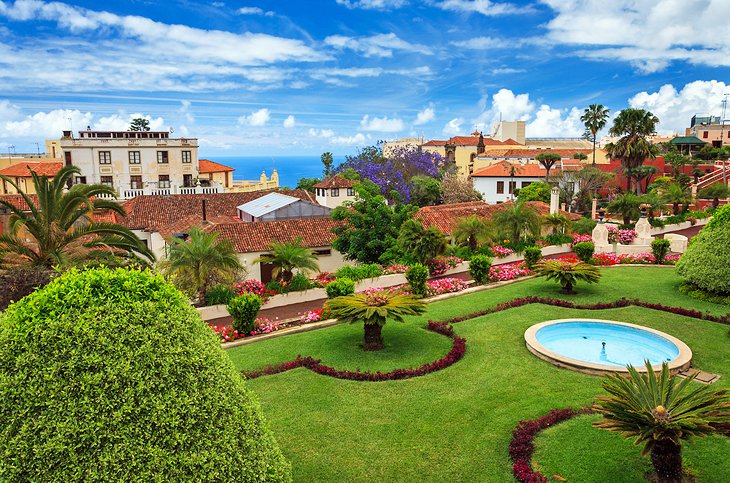 In a beautiful valley of banana plantations, this historic town has been designated as a National Historic-Artistic Site. The historic quarter is filled with handsome old buildings and impressive monuments. Be sure to see the Iglesia de Nuestra Señora de la Concepción, a 16th-century Baroque church with two remarkable bell towers. Another architectural gem is the Casas de los Balcones, which houses a collection of handicrafts from Spain and America.
Besides its cultural treasures, La Orotava boasts natural beauty. The exquisitely landscaped Tropical Garden, the Hijuela del Botánico is filled with colorful exotic flowers, rare plants, expansive lawns, and decorative pools. The tropical plants in the botanical garden are from South America, Central Africa, and Australia. Nature lovers will also appreciate the Playa del Bollullo, a stunning beach of black sand with strong waves. This beach is accessible by a dirt road or by taking bus 374 from the city center. Amenities at the beach include public toilets and umbrella and lounge chair rentals. Despite the isolated location, Bollullo Beach has an excellent restaurant.
8 Santa Cruz de la Palma (La Palma Island)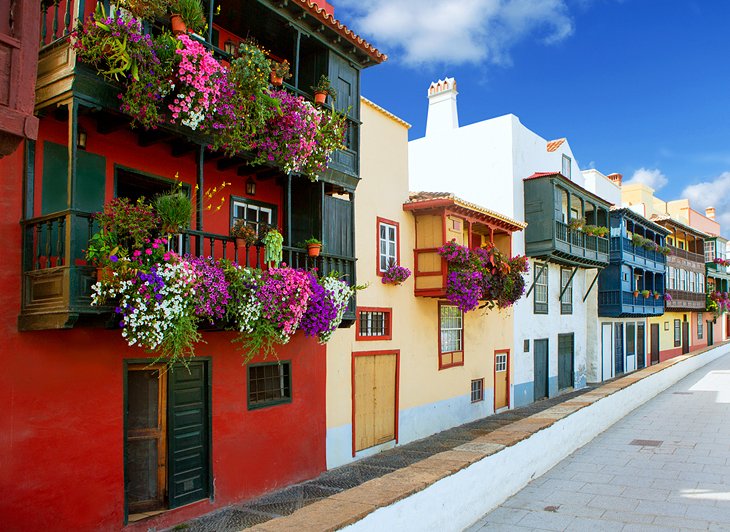 This pleasant seaside town is a delightful place to stroll and enjoy the quaint Old World ambience. Steeped in history, Santa Cruz de la Palma is a beautiful colonial city with many architectural treasures. The historic center of town boasts many palaces, churches, and buildings designed in traditional Canary Islands style. Santa Cruz de la Palma has a rich cultural heritage and embraces its customs. One of the most beloved traditions is Quinquennial Fiestas celebrating the island's patron saint, Virgin of Las Nieves. This event is held in July and August every five years, following the same traditions the townspeople have enjoyed since 1680. Festivities include a pilgrimage where local residents dress in costume, nighttime processions illuminated by colorful paper lanterns, and a Dance of the Dwarves parade with cartoonish characters that polka dance.
9 Icod de los Vinos (Tenerife Island)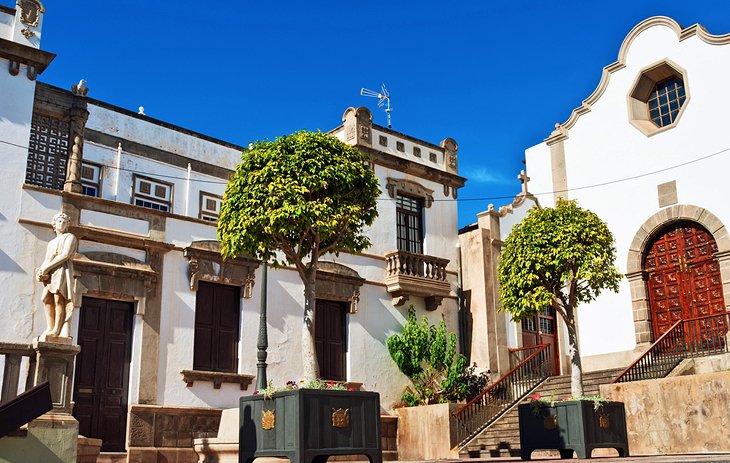 Nestled in a valley of vine-covered fields and banana plantations, Icod de los Vinos is a charming rural village. The town has a fascinating nature sight. El Viento Cave was formed by a volcanic eruption from the Pico Viejo volcano. One of the largest lava tubes in the world, the site is a labyrinth of underground passageways. Icod de los Vinos also has two small beaches. The Playa del Monis is a pebble and sandy beach that is good for sunbathing but not swimming. Playa de San Marcos is a black sand beach with moderate waves. This beach has excellent facilities including showers, changing rooms, public toilets, umbrellas, and lounge chairs. Boating enthusiasts will appreciate the yacht club at San Marcos Beach.
10 The Sunny Beach Resort of Playa de Santiago (Gomera Island)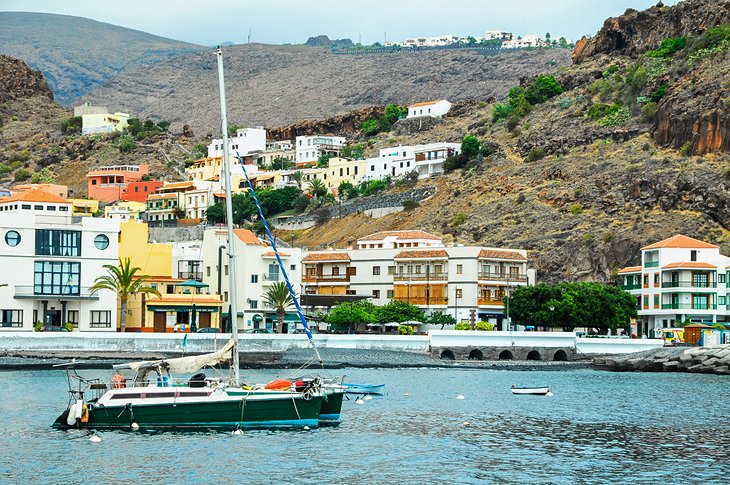 In southern Gomera Island, this sun-soaked beach resort is a popular tourist spot because of the area's great weather and gorgeous sandy shoreline. Tucked in a bay between a rocky promontory and a terraced hillside, Playa de Santiago includes the towns of Lomada de Tecina and Laguna de Santiago and a fishing village. This sheltered position and a refreshing lack of overdevelopment makes this beach quieter than other Canarian resorts such as Puerto del Carmen on Lanzarote Island. With a 10-meter-wide shoreline that extends for one kilometer, sunbathers have plenty of room to spread out. The beach has calm, crystal-clear waters ideal for swimming. Near the beach's fishing harbor are many hotels and restaurants that serve excellent seafood meals.
11 Caldera de Taburiente National Park (La Palma Island)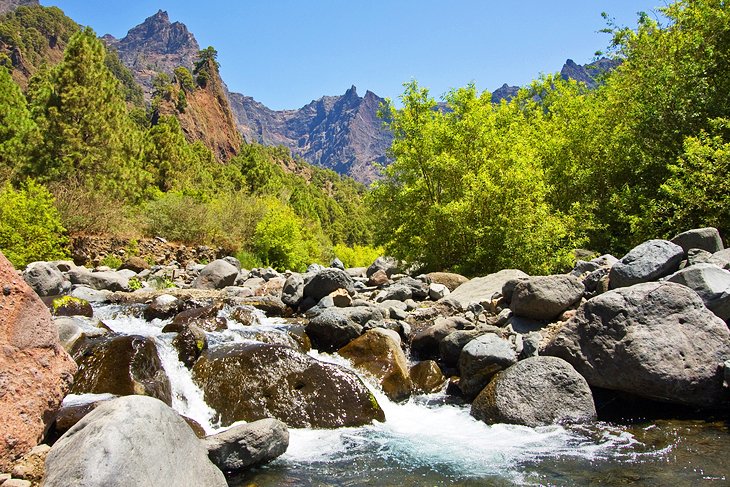 Known as the Isla Bonita (Beautiful Island), La Palma is the greenest island in the Canary Islands. The landscape is full of natural wonders from pristine forests to sheer cliffs and black sand beaches. Designated a UNESCO Biosphere Reserve, La Palma Island has many protected environments, including the Caldera de Taburiente National Park. Here, the scenery is surreal, with volcanic peaks rising to 2,400 meters and lava that descends to the sea. For those in search of idyllic surroundings, the park has wooded areas with streams and waterfalls. Along the rocky coastline, picturesque little bays are hidden away in between steep hillsides. The Parque Nacional de Timanfaya is another protected nature area. This national park is a rugged landscape in a land of volcanoes at its most dramatic. Fields of solidified lava spread out to the sea with patches converted to dry-farm agriculture where onions, tomatoes, and melons flourish.
12 The Beaches of Fuerteventura Island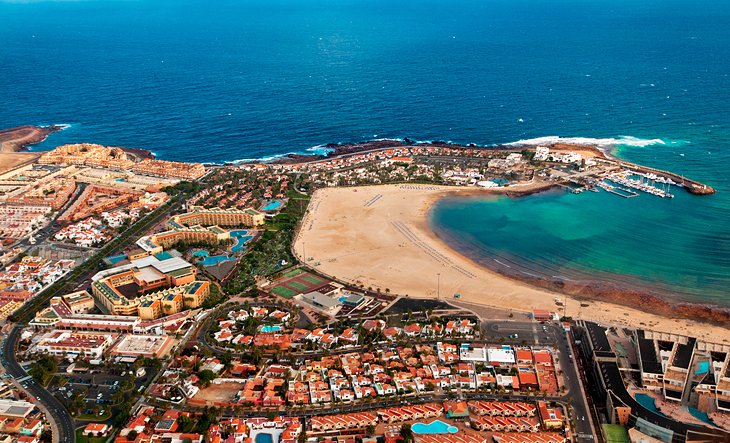 Fuerteventura differs from the other islands because it has miles of undiscovered sandy beaches that are almost empty. This island is a good choice for those seeking a relaxing beach vacation. Most hotels offer everything tourists need, from restaurants and entertainment to watersports equipment rentals.